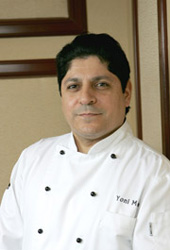 Yoni Mora
Yoni Mora is the Executive Pastry Chef for ARK Restaurants in Las Vegas, NV. ARK operates 20+ outlets in Las Vegas at such fine hotels, as the Venetian Hotel Casino, New York New York and Planet Hollywood Hotel Casino. He is currently based in the New York New York and personally oversees the pastry operation for all of the property's dining restaurants in ARK's portfolio. With his early beginnings at various South Florida, New York, and California properties, he quickly advanced in his pastry career and settled in Las Vegas, taking on the challenge of larger casino properties.
In a key administrative roll, Chef Yoni oversees a pastry team, which brings his seasonal menus to life, catering to the demanding and sometimes indulgent tastes of his guests, keeping a trendy offering at the many themed restaurants, and maintaining a high, consistent level of quality across the various departments. From simple and traditional flavors he accentuates his desserts with subtle spiced accent notes and enjoys a visual style of clean lines and geometry.
Chef Yoni has been actively competing in numerous events all over the country and teaching from Beverly Hills to Miami to NYC to France for over 20 years. Accomplishments include various awards in sugar showpieces, chocolate showpieces, and edible pastries.
Accolades and accomplishments:
2009 National Pastry Team Championship: Gold Medal, Sugar Showpiece and Best Buffet Table Presentation
2008 Atlantic City, NJ: Silver Overall , Gold for Best Dessert Degustation and Best Chocolate and Sugar Showpiece
2007 Coupe du Monde de la Patisserie: Gold Medal for Best Sugar and Best Chocolate Cake
2005 National Pastry Team Championship, Phoenix, AZ: Silver Medal Overall & Best Buffet Table Presentation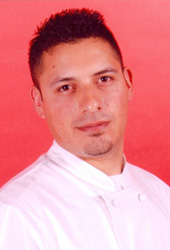 Alfredo Rueda
Alfredo began his career back in 1997 at Votech High School vocational school in Las Vegas, Nevada. After graduation, he attended the College of Southern Nevada, previously the Community College of Southern Nevada. While in college, he was a member of the culinary club and fell in love with the culinary industry. He later had the opportunity to open Red Square Restaurant and Bar at Mandalay Bay Hotel and Casino doing plated desserts.
Alfredo has gained experience through the years at many restaurants and casinos where he has learned production skills and knowledge in making chocolate and sugar decorations, breads, sauces, ice creams and French desserts. He also further developed his skills through assisting with special events and VIP parties, some of which required both sugar and chocolate showpieces. He is constantly striving to improve his skills and further his career through pastry and culinary seminars. He is passionate about what he does and, while it hasn't been an easy career path, it has been a dream come true for him.
Alfredo also competes in pastry, chocolate and sugar showpiece competitions. Not only has he had the opportunity to compete in culinary competitions himself, but has also assisted his mentor, Executive Pastry Chef Yoni Mora, during many competitions. He currently works as the Assistant Pastry Chef for the ARK Las Vegas Corporation.