Your involvement is essential
Some of the volunteer positions available are listed below.
This is not a complete list and there are many more opportunities depending on your background.
If you have a special skill set that you feel will be of value, please let us know!
Help unload our trucks.
Showpiece Championship and Pastry Live seminar kitchen setup and break down.
Dishwashing, inventory, clean up and loading equipment.
Audience control, check-in and ticket taking.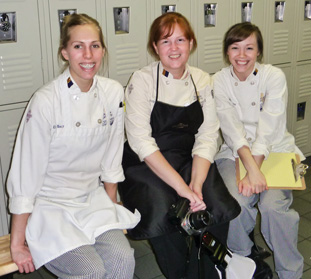 If you are interested in helping make the National Showpiece Championship a great event, please get involved. For an application to volunteer please send us an email at volunteer@pastrylive.com
Note on compensation
Pastry Live and the Showpiece Championship does not pay for airfare, hotel, room/board, reimburse personal expenses, or provide any form of stipend.
We do, however, offer a great chance to be behind the scenes in an event that features some of the Nation's best chefs. Volunteers also may receive discounts to future events commensurate with their level of participation. Remember, this is a great way to network!
Unfortunately, if you do not complete your assignment, do not show, or are asked to leave because you are not doing your job, you will immediately become ineligible for all benefits or rewards. It is expected that all volunteers will fulfill their obligation unless there is an emergency situation.