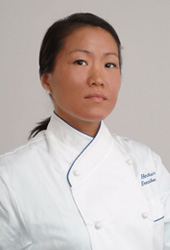 Heather Hurlbert
Heather Hurlbert was born in Seoul, South Korea and moved to the United States when she was adopted at age eight. By the time she was 11 years old, she was a United States citizen. Graduating from the Culinary Institute of America with an Associates degree in Culinary Arts, Heather has a passion for creating anything chocolate-related.
Heather serves as the Executive Pastry Chef at the Cherokee Town and Country Club in Atlanta, Georgia, where she prepares dishes from around the world. In Heather's opinion, what's the benefit of working with such a variety of food? "I'm traveling without really leaving my job."
Accolades & Accomplishments
2010 Bravo's Top Chef: Just Desserts Cheftestant
2009 Culinary Super Challenge Team Competition (Florida Food Expo): First Place
2009 ACF National Pastry Chef of the Year Competition: National Title
2009 ACF Southeast Pastry Chef of the Year Competition: First Place
2008 Sugar Casting Challenge (Chicago Mold School): First Place
2006 Culinary Super Challenge Team Competition: Second Place, Silver Medal
2005 Culinary Super Challenge Team Competition: Fifth Place, Silver Medal "Best Fried Item"
2004 IKA (Culinary Olympics), ACF Culinary Team USA: Gold Medal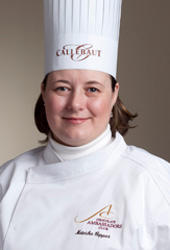 Natasha Capper
Natasha is the Executive Pastry Chef at the historic Piedmont Driving Club in Atlanta, Georgia. Born in Zimbabwe (Rhodesia), Natasha emigrated to the USA with her family in 1982. She has a degree in Foodservice Management from Johnson & Wales University, Charleston, South Carolina. Her career has included positions at The Grove Park Inn, Renaissance Hotels and The Ritz-Carlton Hotel Company.
Natasha is a Certified Executive Pastry Chef through the American Culinary Federation. An avid competitor, she held the degustation position for Team Danks during the 2005 and 2007 National Pastry Team Championship. Some of her numerous awards include the 2007 ACF Southeastern Pastry Chef of the Year, "Best Bread Showpiece" at the 2006 Bread and Pastry Team Championship, as well as silver and bronze medals at the Southern Pastry Classic, and first place at the 2008 US Foods ACF Culinary Salon centerpiece division.
Natasha sits on the advisory board for Chattahoochee Technical College where she is also an adjunct culinary instructor. She is currently secretary for the ACF Greater Atlanta Chapter. She enjoys sharing and gaining knowledge through pastry seminars and demonstrations and is involved with the Prostart high school program. Natasha is a member of Barry Callebaut's exclusive Chocolate Ambassadors Club; a program designed to educate others in the fine art of chocolate.