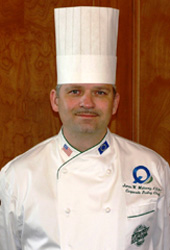 Jim Mullaney
Executive Pastry Chef James Mullaney lives the sweet life. His prolific talents bring beauty, whimsy and sublime indulgence to the tables of the finest establishments in Georgia.
A visual master and an adroit craftsman, Mullaney takes the artistic aspects of pastry to fresh heights through his award-winning showpieces. In 2005 he was awarded the National Champion title at the National Pastry Team Championship held in Phoenix, AZ and has claimed more than 30 other medals in chocolate, pastry and ice carving competitions over the course of his career. Mullaney was selected to represent the United States in 2006 and 2009 in World Pastry Championships, here in the U. S. and in Lyon, France. His work has been featured on the Food Network, TLC and in the industry-favored Pastry Art & Design magazine.
Mullaney, originally from Pittsburgh, commenced his culinary career in the U.S. Army as a Distinguished Honor Graduate of the Food Service Specialist Training Program at Fort Jackson, SC. He later graduated from an accredited Pastry Apprenticeship Program at The Cloister at Sea Island, a program he later directed. He then expanded these skills further at chocolate schools in the pastry meccas of Belgium, France and Spain. Additional training at the Notter School of Confectionary Arts in Florida led to a full time position as lead instructor of baking and pastry.
From this well-rounded foundation, Mullaney has built on his formal training with verve. He joined The Sea Island Company / Mobile Five-Star Cloister Hotel in 1999 as Executive Pastry Chef, before that he served as Executive Pastry Chef of Loews Ventana Canyon Resort in Tucson, AZ, where he delighted patrons of the AAA Five-Diamond Ventana Room with his magic, and as Executive Pastry Chef of the AAA Five-Diamond Ritz-Carlton, Amelia Island. He currently works with Atlanta Foods International and QimiQ Corporation (Austria) as Corporate Pastry Chef.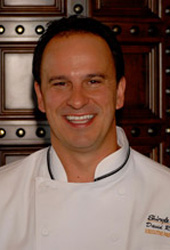 Dave Ramirez
Dave Ramirez is the Executive Pastry Chef for Rosen Shingle Creek in Orlando Florida which opened in 2006. Prior to working at Rosen Shingle Creek, Dave opened the Royal pacific resort for Loews hotels and also worked for Universal Studios in Orlando as Pastry Chef, running the production bakery servicing over 30 Restaurant outlets. Dave has been Executive Pastry Chef in 5 star properties in Orlando and Atlanta for the past 16 years and has also been pastry chef consultant for other properties throughout the United States.
Most recently Dave has been picked to be team captain of Team USA for the prestigious Coupe du Monde de la Patisserie competing in Lyon, France, January 2009. The three man team consisting of pastry chefs Roy Pell, Phoenician hotel Scottsdale, Arizona and Remy Funfrock from The Broadmoor hotel in Colorado Springs, Colo. will compete against 20 other teams from around the world.
Dave and Team mates Laurent Lhuillier and James Mullaney competed in the World Pastry Championship in July of 2006 as Team USA in Phoenix, Arizona placing third and winning a bronze medal. Dave and Teammates Laurent Lhuillier and James Mullaney formed "Team Lhuillier" and won first place in the National Pastry Championship in Phoenix, July 2005. Winning gold medal and also "Best Chocolate Centerpiece" and "Best Degustation" along with the $50,000.00 cash prize and the honor of being Team USA and competing for the World Pastry Championship in 2006.
Dave and team member Jim Mullaney competed in the first "Bread and Pastry Team Championship" 2004 in Atlantic City placing second and receiving silver medals and winning "Best Chocolate and Sugar Centerpiece"