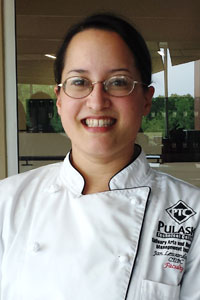 The Blue Cake Company
Chef Jan Lewandowski, CEPC, is an instructor of Baking and Pastry Arts at the PTC Culinary Arts and Hospitality Management Institute (CAHMI) and co-owner of The Blue Cake Company, both in Little Rock, AR.
Jan graduated from the Scottsdale Culinary Institute in 1999, where she met her husband Steve. After a few years gaining pastry experience at The Country Club of Little Rock, The Peabody Little Rock and The Capital Hotel, she and Steve opened the Blue Cake Company in 2005, a custom cake shop that focuses on cakes from scratch and modern cake design. Blue Cake has been voted Best Wedding Cakes and Best Birthday Cakes in various local publications for the past several years.
Jan continues to create cakes for Blue Cake around her teaching schedule, but has spent the past few years focusing on teaching. At CAHMI, she oversees the ACF accredited baking and pastry program and instructs students in cake design, pastry techniques, breads and confections. CAHMI just moved into a brand new 60,000 SF building, with 11 kitchens, including it's own baking lab and chocolate & confectionery lab- a dream come true for any pastry chef!