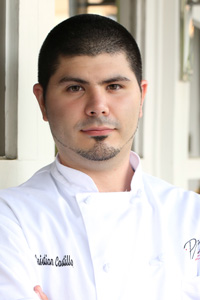 Pricci
Buckhead Life Restaurant Group
Originally from Buenos Aires, Argentina, Chef Christian Castillo brings a new, fresh face to the Pricci pastry program. His passion for bold flavors and interest in molecular gastronomy fuel his creativity for creating innovative, unique and delicious pastries and desserts. He likes to experiment with savory and sweet flavors, creating the perfect balance to finish off a great Italian meal.
Christian graduated with Honors from Le Cordon Bleu with a degree in pâtisserie and baking. While in school and following graduation, he worked for three years under Pastry Chefs Heather Hurlbert and Alex Hwang at Cherokee Town and Country Club in Atlanta before taking the helm at Pricci.
Christian lives in Atlanta with his wife Juliana. In his spare time, he enjoys making pasta at home, exercising, painting and writing poetry.