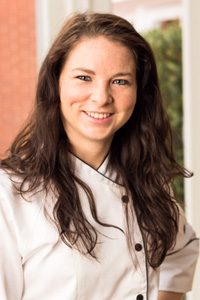 Indiana Memorial Union Restaurants and Catering by Sodexo
Ashley Baughman, CPC, a rising star in the pastry world, has achieved great success in her young career. Baughman joined The Omni Homestead Resort in Hot Springs, Virginia in October 2013 and was recently promoted to her current role as pastry supervisor as a result of her organizational and leadership skills. Her strong work ethic and adaptability to changing needs, along with her advanced culinary skills and initiative have been valuable throughout her career.
Prior to The Omni Homestead, Baughman was pastry cook 1 for the Taj Boston Hotel in Boston, Massachusetts, where she prepared items for breakfast, lunch and dinner service, culinary amenities, brunch displays and showpieces. Earlier in her career, she was the lead baker for Wright's Dairy Farm in North Smithfield, Rhode Island and a pastry intern at the Cliff House Resort & Spa in Ogunquit, Maine.
At Johnson & Wales University, Baughman graduated magna cum laude in 2010 with an associate's degree in applied science, baking and pastry and summa cum laude in 2011 with a bachelor's degree in baking and pastry. While studying at Johnson & Wales, Baughman achieved the distinction of Certified Pasty Cook from the American Culinary Federation and in June 2011, she earned a certificate of completion from DCT Switzerland. In addition, she studied various chocolate techniques including sculptures, garnishes and truffles as well as sugar work in Vitznau, Switzerland. While in Europe, Baughman enhanced her culinary education with wine classes where she learned to create plated desserts based on the flavor profile from a sip of wine.