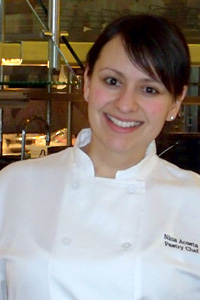 Pastry Chef
Hyatt Regency Denver
Nina Acosta set out for her culinary journey in 2004 at Le Cordon Bleu in Minneapolis Minnesota. During a winter break trip back home to Colorado a blizzard caused her flight to be delayed for 3 days before she could return to school, where, coincidently, Nina was to start her baking and pastry course. Staying late to make up for lost credit, she fell in love with the technique and art of the pastry world. Nina graduated in 2006 with her culinary arts degree but never lost her new found intoxication for pastry.
Nina took internship at Chimney park bistro in Windsor, CO. Where she expressed her interest in learning all she could about baking and pastry. After entering a desert to local competition she won people's choice award for best dessert, that moment Nina knew she would 100% pursue her love for pastry. Everything she knows about pastry Nina has self-taught herself from: "lots and lots of books, hands on practice and enquiring from willing mentors".
Nina has worked from independent restaurants, Bistros, Country Clubs, to The Ritz Carlton. In February 2011 she was named Hyatt Regency Denver's Pastry Chef where Nina and her team of five produce more made from scratch desserts than the 1100 room, 3 outlet hotel has ever seen before. After her first year, in 2012, she received Hyatt Regency Denver's rising star award and sets her new goal to compete as an upcoming chef for competitions and charities all over the state of Colorado. Nina is incredibly honored to be a part of pastry live and eager to compete amongst exemplary pastry chefs from around the country.