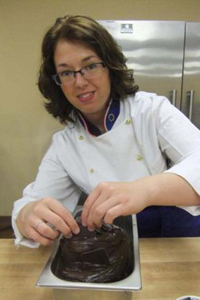 Corporate Pastry Chef, ABS & Taylor Ent.
Laura is alum of the French Pastry School in Chicago, IL. Upon graduation, Laura ventured to Kansas City, MO where she explored her passion for hand crafted chocolate as a chocolatier at Christopher Elbow Artisanal Chocolates. Returning to Chicago, Laura entered the frozen dessert world with PreGel America, traveling throughout the mid-west, educating and training on gelato production, theory, and recipe development.
Today Laura is the Corporate Chef at ABS & Taylor Ent., providing hands on training on all equipment, demonstrating production and equipment maintenance, as well as recipe development and gelato training classes at the ABS & Taylor Ent. test kitchen.