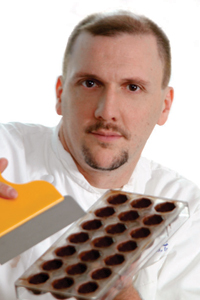 Brian Donaghy
Product Development Specialist
Chocolate Delivery Systems
Brian is currently the Product Development Specialist for Chocolate Delivery Systems of Buffalo, NY. At CDS he is responsible for the development, sourcing and manufacturing of all chocolate and other food products that are sold in North America, the Caribbean and Europe. In addition to his responsibilities at CDS, Brian is the principal at The Criollo Group, a consulting company that specializes in chocolate and confection.
Previously, Brian was an instructor at the Niagara Falls Culinary Institute, the Corporate Pastry Chef at Tomric Systems, Inc., the Assistant Corporate Pastry Chef at Albert Uster Imports and worked for the Ritz-Carlton company. He has appeared twice on Food Network Challenge, winning once and has taught numerous classes throughout the United States.
Away from the kitchen Brian enjoys spending time with his wife Christina, daughter Olive and his two Labradoodles Criollo and Sally, watching baseball and has recently taken up playing Squash again after a 20 year hiatus.
---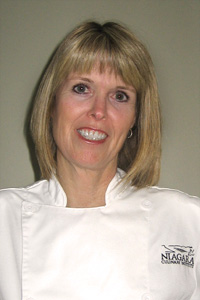 Ruth Bleijerveld
Pastry Chef/Instructor
Benchmark Restaurant of the Canadian Food and Wine Institute at Niagara College
Ruth Bleijerveld is currently a Pastry Chef/Instructor at Benchmark Restaurant of the Canadian Food and Wine Institute of Niagara College, Canada.
She began her love for everything sweet as a child watching Jacques Torres on PBS on Dessert Circus. Not realizing though till later in life how that had an impact on her second career choice.
With parents who emigrated from Holland in the 50's, they raised their family in a home based business atmosphere. Horticulture taught her that the harder you worked the more you gained. Hard work paid off and made Ruth successful in several retail beginnings where creativity, organization and planning was just a springboard for what lay ahead for this country girl.
Ruth, a mother of 3 children, entered College in 2008. She completed her Culinary Management Diploma only to go right into Baker/Patisserie Apprenticeship Red Seal. Amongst the amazing skill at Niagara College, Ruth was able to dedicate many hours beyond school to excel in the land of flour, fat, eggs and sugar. But in the midst of all that, there she found her love for Chocolate and has never looked back.
Her creativity and skill with Chocolate has taken her to win awards and temper chocolate with some of the top names in the world. Attention to detail and her determination to excel have brought her to Niagara College where she can pass on her talents to future chefs.