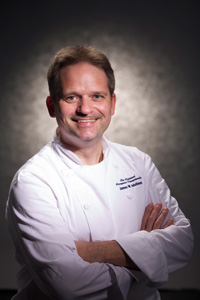 James Mullaney CEPC
Executive Pastry Chef
J Mullaney Pastries
Pastry Chef James Mullaney lives the sweet life. His prolific talents bring beauty, whimsy and sublime indulgence to the tables of the finest establishments in Georgia.
Mullaney takes the artistic aspects of pastry to fresh heights through his award-winning showpieces. In 2005, he and his team took top honors at the National Pastry Team Championship held in Phoenix, AZ and has claimed more than 30 other medals in pastry and ice carving competitions over the course of his career. Mullaney was selected to represent the United States in 2006 and 2009 in World Pastry Championships, here in the U.S. and France.
Mullaney, originally from Pittsburgh, commenced his culinary career in the U.S. Army as a food service specialist, training at Fort Jackson,SC. He later graduated from an accredited Pastry Apprenticeship Program at The Cloister on Sea Island. He then expanded these skills further at chocolate schools in the pastry meccas of Belgium, France and Spain. Additional training at the Notter School of Confectionary Arts led to a full time position as lead instructor of baking and pastry.
Mullaney worked for the Sea Island Company / Mobile Five-Star Cloister Hotel for a total of 18 years, 9 as Executive Pastry Chef. He served as Pastry Chef of the Mobile Four-Star Loews Ventana Canyon Resort in Tucson, AZ and as Pastry Chef of the Five-Diamond Ritz-Carlton, Amelia Island, FL. Recently, he worked with Atlanta Foods International and QimiQ Corporation (Austria) working as Corporate Pastry Chef.
August 2012, Mullaney opened his own business "J Mullaney Pastries," a consulting and catering firm serving clients around the world.
---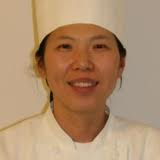 Alex Hwang
Cherokee Town and Country Club
Chef Kyongran (Alex) Hwang, one of the most hard working pastry chefs today, came to United States in 1999 with great hope and dream to become one of the most sensational pastry chefs in culinary world. In 2001, she enrolled at Culinary Institute of America and earned Associate Baking and Pastry degree in two years.
After she graduated from CIA, she started working at Cherokee Town and Country Club in Atlanta, Georgia and she has established herself to become an Executive Pastry Chef. During early part of her career, she worked under Chef Christopher Northmore who is Certified Master Pastry Chef as his apprentice. Needless to say, while she was working under Chef Northmore, she was heavily inspired by his master skill, style, work ethic, and great passion for Pastry and Baking art.
In 2006, Kyongran demonstrate her brilliant skills in ACF Pastry Salon at Savannah, GA "Wedding Cake Competition" and won Silver medal and in following year, she won bronze medal in "Novelty Cake Competition" ACF Pastry Salon at Atlanta, GA. ACF Pastry Salon 2007 (Atlanta, Dessert Expo) Atlanta, GA "Wedding Cake" First Place, ACF Bronze Medal, ACF Pastry Salon 2008 (Atlanta, Dessert Expo) Atlanta, GA "Occasion Cake Competition" First Place(ACF Gold Medal) ACF Southeast Regional Conference, 2010 (Birmingham, AL) "Twix Mini Trio Dessert Competition", First Place. ACF National Pastry Chef of The Year 2011( Dallas TX), First Place, ACF Silver Medal