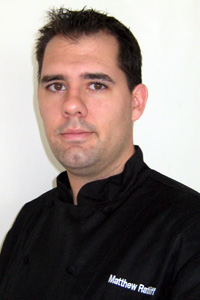 Matthew Ratliff
Assistant Pastry Chef
The Everglades Club
A graduate of the Culinary Institute of America, he holds an Associate's Degree in Baking & Pastry. He stayed on at the CIA for a year's fellowship as a teaching assistant. Matthew also participated in the recipe testing for the Culinary Institute of America's newest version of Baking and Pastry Arts Mastering the Art & Craft of Baking & Pastry.
He completed his internship at the Ritz Carlton in Laguna Beach, California which included working in their 5 star, 5 diamond restaurant as well as all other areas of the resort.
After his time in sunny California he returned to the east coast, to become the Assistant Pastry Chef at Little Palm Island Resort & Spa located on Little Torch Key, Florida accessible only by boat or seaplane.
His next stop would be at Desserts International located in Exton, Pennsylvania, where he worked under Master Pastry Chef and owner Gunther Heiland. A wholesale bakery specializing in European style wedding cakes and extravagant desserts that are supplied to top restaurants, casinos and hotels all over the country.
Chef Ratliff has made his mark at The Inn at Perry Cabin, in St. Michaels Md. A 4 star hotel and resort. Providing custom wedding cakes, creative desserts at the Award Winning Sherwood's Landing Restaurant.
Currently Matthew is working for CMPC Chris Northmore and the Everglades Country Club. Working as assistant pastry chef, Chef Ratliff is in charge of a small staff produce top quality pastries from scratch.
In 2006 Matthew started Competing in nationally ranked pastry completions. He has Placed 4th in the Paris Gourmet's Pastry chef of the year. As well he has numerous Acf medal including 2 gold metals and the best in Show and winner of the 2009 and 2011 Orlando Pastry Challenge, and more recently ,won Food Networks Science Fiction Sugar Impossible Challenge, and Flying sugar. Matthew also won food networks Sugar dome, extream carnivals.
Chef Ratliff has participated in several charity events showing off his showpiece work including Sweet charity, and Meals with the masters. In addition to local charities as well.
---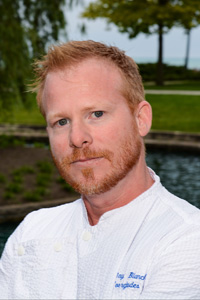 Raymond Blanchard III
Pastry Sous Chef
The Everglades Club
As the AM Pastry Sous Chef of the Everglades Club, Raymond Blanchard oversees a dedicated staff of bakers and pastry cooks. Under his guidance, The Everglades Club provides plated desserts and buffets to some of the most prestigious events on Palm Beach Island.
Prior to the Everglades Club, Raymond was honing his craft working and staging at industry leading environments including Nico Osteria, Four Seasons, Grace, Charlie Trotters, Citronelle, and The Ritz-Carlton Pentagon City.
Ray discovered his taste for competitions after earning a medal for a cake competition while attending Florida Culinary Institute. Ray landed a spot on the student team and helped them to earn gold and silver medals. Since graduating with top honors from Florida Culinary Institute, Raymond has earned multiple showpiece competition medals at local ACF sponsored events.