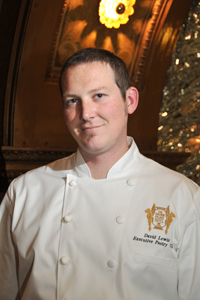 David Lewis
Executive Pastry Chef
The Brown Palace Hotel and Spa
Chef David Lewis was born and raised in rural Illinois. Growing up with country cooking he discovered the love of food was a passion of his. David began cooking in small restaurants and country clubs at the age of 15. That is when he knew he wanted to become a chef. After high school he left and moved to the "big" city of Joliet. That is where he received his Associates degree in Culinary Arts from Joliet Junior College. After school he began his professional career with Roy's Hawaiian Fusion which landed him in Las Vegas. David then moved to working for hotels where he started at Harrahs. He left there and journeyed out to the sea where he worked for Norwegian Cruise Lines. Loving the land life more than the sea he traveled back to Las Vegas where he was pastry chef for Paris, Bally's, and Planet Hollywood. Seeking the simple life again he moved to Colorado where he currently resides at the Brown Palace Hotel in Denver.
Lewis has competed in the 2010 & 2012 Pastry Chef of the Year Competition in New York. He also competed in Pastry Live 2012 & 2013 in Atlanta where he received "Best Artistic Showpiece" in 2012.
---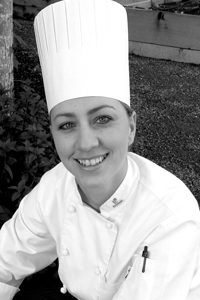 Julie Eslinger
Assistant Pastry Chef
Colorado Convention Center
Julie is currently the Assistant Pastry Chef for Centerplate at the Colorado Convention Center in Denver Colorado. There she oversees the production of a variety of house made pastry items for corporate events, plated banquets, receptions, and other special occasions. Julie thrives on high volume and the energy and excitement that comes from delivering thousands of plates to a single dining room. She loves to push the envelope and deliver results. She is responsible for the training and development of her team, whom she loves and thoroughly enjoys working with. In 2012 Julie competed in the ACF Winter Salon in which she received a silver medal for her cold plated dessert. In 2013 & 2014 she competed in Sweet Times in the Rockies, a cake competition where she received both silver and gold medals. Her cakes have also made appearances in Cake Central Magazine.
Julie loves all things sugar, chocolate, and cake, and is constantly working to develop her own skills. While she was a student, she had the privilege to work with Chef Craig Winter, who first introduced her to chocolate and sugar sculpture techniques. Instantly she felt a connection with her artistic background and her passion for pastry. Julie graduated with an Associates degree in Baking and Pastry, and soon after began building sugar, chocolate, and bread sculptures for high end functions to deliver extraordinary experiences to her guests. She is proud to be a part of the Centerplate team, and is excited to see what the future holds for her. Outside of work Julie likes to travel when she can, be with friends, and eat at new restaurants.