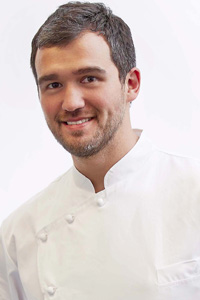 Tout Chocolat
Luis Robledo Richards has over 15 years of experience as a Pastry Chef and is the owner and creator of Tout Chocolat, a chocolate shop that specializes in high quality products including bonbons, bars, pastries and several other confections.
After graduating form the French Culinary Institute's "Classic Pastry Arts" program where he was awarded "Outstanding Alumni Award", Luis joined the pastry department of Restaurant Daniel in Manhattan's Upper East Side, working alongside Pastry Chef Thomas Haas.
In the summer of 1999 Luis moved to Paris to attend the prestigious École Lenôtre where he apprenticed under chefs Jean-Louis Clément, Stéphane Glacier, Frédéric Anton and Philippe Gobet, all winners of the coveted MOF title.
During his stint in France, Luis worked in Michelin starred establishments such as Le Pré Catelàn and attended chocolate classes at Valrhona's École du Grand Chocolat in Tain l'Hermitage.
In the fall of 2001 owner Sirio Maccioni named Luis Executive Pastry Chef of his acclaimed restaurant Le Cirque, where his dessert Red Fruit and Vanilla Napoleon was named "one of the five best dishes around the world" by food writer Alan Richman.
After two years as Le Cirque's pastry chef, Luis was named Executive Pastry Chef of the Four Seasons Hotel New York. In addition to the Hotel's day-to-day responsibilities, Luis created a line of high-end chocolates that became an immediate success among the Hotel's VIP and celebrity guests.
In February 2006, Luis moved to Mexico City where he opened his anticipated first chocolate shop "Tout Chocolat", achieving much success in Mexico and abroad.
Since then he's been recognized as "One of the Top ten Chocolatiers in North America" by Dessert Professional Magazine and "Chef of the Year" by Vatel Club Mexico.
As a competitor Luis has won numerous competitions including the World Chocolate Masters Mexico in 2010 and 2012, as well as the Mondial des Arts Sucrées as a coach in 2009.
Throughout his career, Luis has appeared in numerous TV segments including Today Show, Good Morning America, Food Network, Latin America's Gourmet Channel, Mexico's Channel 11, Utilísima, Televisa and TV Azteca among others.
In addition, Luis has participated in several events such as "City Meals on Wheels", The Chocolate Show, The Chocolate fashion Show and The James Beard Foundation Gala dinner.