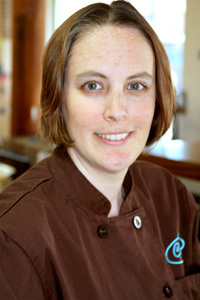 Cero's Candies
Darcy (Bishop) Thrasher is co-owner and head confectioner at Cero's Candies in Wichita, KS. Cero's Candies has been in continuous operation since 1885. Prior to purchasing Cero's, Darcy was a production and continuous improvement supervisor at a prominent manufacturer of small aircraft. Candy making and pastry work was a hobby and an opportunity arose to purchase the historic candy shop. She and her mother purchased Cero's Candies in 2010.
Her cooking philosophy is "looking back to go forward" which works cohesively with handed down recipes and creating new flavors and techniques. Darcy's resourcefulness resulted in her updating of the current menu, remolding of her shop, and her award winning innovative style.
Darcy is a graduate of Indiana University and has an MBA from Baker University. She graduated top of her class at Ecole Chocolate School as a Professional Chocolatier.