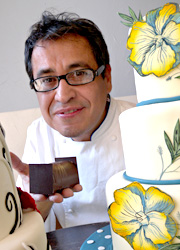 Peter Rios is the owner and Executive Pastry Chef for Alliance Bakery in Wicker Park, Chicago.Since the purchase of this Classic Bakery in 2007, Chef Rios has worked to create a fresh and modern approach to the Art of Pastry at Alliance. Specializing in Custom and Creative cakes, Alliance Bakery creates a wide assortment of Desserts, Pastries, and Individual Plated Desserts. The Bakery provides Wholesale and Retail customers with every sweet desire to make an event memorable.
Prior to his retail bakery, Peter Rios was the Executive Pastry Chef at the Fairmont Hotel Chicago. At the Fairmont Hotel, Chef Rios lead a team of 10 in the pastry department. With the award winning restaurant, Aria – Chef Rios created Asian and Global inspired desserts. The Aria Sushi bar, Lobby lounge and the Club Lounge were other outlets at the Fairmont Chicago which a offered international desserts. The 440 room Hotel held dinners and receptions for up to 1200 ppl. From Corporate Events to small and large private functions and Weddings.
Prior to arriving at Fairmont Hotel, Rios served as Executive Pastry Chef for 4 years at the Sofitel Chicago Water Tower. At the Sofitel Hotel, Chef Rios enjoyed the challenge of preparing modern French Pastries for the flagship hotel of this French hotel company. Chef Rios headed a team of 8 Pastry cooks and Bakers. From Chocolate and Sugar Sculptures to scratch production of all Viennoiserie, the pastry produced at this Resort Hotel was among the best in Chicago.
As Executive Pastry Chef for the Art Institute of Chicago for 6 years, Chef Rios created many themed buffets and displayed his talents in matching modern and traditional pastry to the Art exhibits and shows for this famous Museum. The Art Institue was mainly a private venue for Corporate and Political functions and served as a show case for the City of Chicago. Most every Head of State to vist Chicago included a dinner or lunch at the Art Institute of Chicago.
Chef Rios has received many awards and accolades, which include third place in the 2004 Food Channel -Chocolate Challenge, 2002 Finalist in the Grand Prix of Chocolat in Paris, France, 2001 Gold Medal "Pastry Chef of the Year", The Gold Medal for "Best Taste Award" at the Patisfrance U.S. Pastry Competition in New York, 2000 First Place National Plated Dessert Competition at the Albert Uster Imports in Maryland, and 1999 Second Place and "Best Taste Award" at the Nouveau Beaujolais Pastry Competition in Chicago. Rios was also a member of the U.S. Pastry Team at the 2001 Beaver Creek National Pastry Competition.
Chef Rios has trained extensively in Europe and has participated in demonstrations in Paris, Lyon and Nice, France and most recently in Chocolate and Pastry seminars in Istanbul, Turkey.
Chef Rios is a graduate of Kendall College School of Culinary Arts. He continues to learn and evolve in the Art of Pastry.
Alliance Bakery
http://www.alliance-bakery.com/
1736 W Division St
Chicago, IL 60622
773-278-0366
info@alliance-bakery.com
Check out Some pictures of the beautiful work coming out of Alliance Bakery.
Click for a better view.