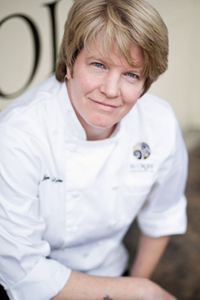 Co-Owner
St. Croix Chocolate Company
http://www.StCroixChocolateCO.com
Robyn Dochterman is the owner and head chocolatier of St. Croix Chocolate Company in Minnesota.
After a successful career in journalism, Robyn learned fine chocolate techniques from internationally acclaimed chefs at the French Pastry School in Chicago, the Chocolate Academy in Chicago, and the San Francisco Baking Institute in California. She opened her own shop in 2010 and is well known in the Twin Cities area, having won many local awards.
Robyn's commitment to local and seasonal ingredients comes naturally. She often forages edible flowers and wild fruits she learned about a child wandering the Iowa countryside. In addition to sourcing local and organic cream and butter, she uses honey from her own backyard apiary.