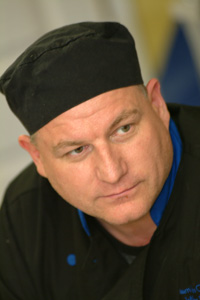 William Dean Chocolates
William Dean Brown, founder and Chief Chocolate Officer (CCO) at William Dean Chocolates, began exploring his artistic talents at an early age. Although trained as an educator, William became involved in the dot.com world where he co-founded a software company and later joined an emerging technology company. After the dot.com bubble burst, he reinvented himself by moving to Tampa, Florida. He joined Ceridian Corporation and worked his way into upper management. After watching an episode on "The Food Network," he made chocolates for his employees and knew he had found the perfect medium to express his creativity.
As William learned to airbrush and paint chocolates, the artistic passion from his youth returned. Artisan chocolates offered the opportunity to create a beautiful, outward appearance with amazing flavor combinations hidden within. He began his journey of learning by reading every book he could get his hands on about chocolate. He then began to take classes and spend time with other chocolatiers to learn even more. Within two years, he learned firsthand from some of the top chocolatiers in the world including Jean-Pierre Wybauw, Stephane Glacier, Andrew Shotts, Anil Rohira, Vincent Pilon, and Ewald Notter.
Since founding the company in 2007, William Dean Chocolates has won numerous awards including "Best of Show" at the NY Chocolate show and "People's Choice" at the Next Generation Chocolatier competition. His Salted Caramel was picked by the NY Times as one of the 10 best in the United States. William's chocolates have also been featured in magazines as well as "The View" with Whoopi Goldberg and the motion pictures, "The Hunger Games" as well as "Catching Fire".