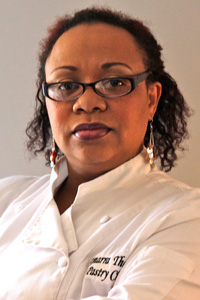 Mama Cocoa's Delights
Winner of Food Networks Sweet Genius, Winner of Bowie's Small Business of the Year, and all around Bad Ass, Pastry Chef Tamarra Thomas has found her Dulce Vida. As an Army brat, Chef Tamarra had a childhood full of new adventures, new places and lots of new foods. Her mother had a rule, you had to try everything at least once. It was that very exposure to new flavors that started her on her culinary path. Through out her life Chef Tamarra always loved cooking. It was a favorite hobby of hers. Her career was something entirely different. She started off working in a traditional field enjoying a comfortable 9 to 5. But her creative side kept calling her, pulling her, tempting her. Finally she gave in. She decided to completely change her existence, and study the art of making delightful things. Chef Tamarra graduated from the Art Institute of Phoenix, with highest honors in Baking and Pastry. From there she continued her quest for knowledge by working in top restaurants, hotels, catering companies and even a gourmet cheese shop. All of this was done with one goal in mind; finding the best methods, and ingredients to make the best delights.
In 2011 Chef Tamarra opening Mama Cocoa's Delights. Mama Cocoa's is an artisan candy shop located in Bowie, Maryland. It is here that Chef Tamarra uses her creativity and knowledge to produce amazing sweet treats. Chef Tamarra makes all of her delights by hand, using only natural ingredients. Her attention to detail and quest for delightful perfection has gained her a loyal following across the country and even in the US Senate! After winning Food Network's Sweet Genius Chef Tamarra has been featured on NBC News 4, Non-Stop Foodies, ABC, and Fox 5 Morning News. She has also spoken to Schools, Culinary Students and Empowerment Groups. Chef Tamarra plans on continuing to grow Mama Cocoa's Delights. Staying on the path that has led to her many successes. She is also is hoping to inspire other to pursue their culinary dreams.