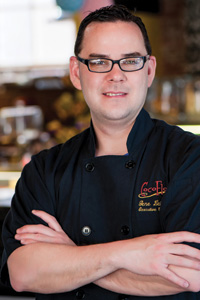 Owner
CocoFlow
CocoFlow.com
After a succesful career in the medical marketing industry and several years travelingthe country, Chef gene Leiterman Translated his expiriences into his true passion – the culinary arts.
IN 2003 Chef Leiterman put his culinary skill to the test by opening a small caternig business, CocoFlow Inc., wiht his wife Kim leiterman. In 2005 CocoFlow expanded into a boutique chocolate shoppe, the firts of its kind in Oklahoma City. Using Traditional European style and technique as inspirtion, Chef Leiterman continued to develop CocoFlow's signature line of chocolates. Today, CocoFlow Chocolatier is Oklahoma's Premier Chocolate artisan, Offering Hanf crafted chocolates, decadant desserts, Custom chocolate sculptures and chocolate classes in their chocolate studio.
Chef Leiterman's Confectionary Point of view is simple and truely artisan in nature. He believes that you must stress the fundamentals and excellence will follow.
In addition to owning and serving as chocolatier for Cocoflow Chocolate Cafe, Chef Leiterman serves as Director of Pastry Arts and Baking Programs for Platt College in Moore, Oklahoma.
CocoFlow Chocolatier
CocoFlow Chocolate Café
Chef Leiterman features his line of chocolates at CocoFlow Chocolate Café located in the heart
of Oklahoma City's historic, downtown Bricktown. In addition to artisan confections, CocoFlow Chocolate Café offers an amazing line of handcrafted pastries, desserts, and espresso drinks.
www.cocoflow.com
100 E. Main
Oklahoma City, Ok 73104
405-524-9500
Info@cocoflow.com