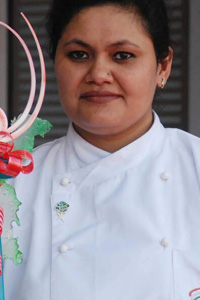 Senior Lecturer
Food Craft Institute
Hoshiarpur (Pb) India
Presently, training aspiring chefs by inculcating right set of skill & knowledge as Senior Chef Trainer in Culinary & Patisserie department of Food Craft Institute, Hoshiarpur. Having an experience of more than 15 years in hospitality Industry, also contributing as Director Communication (Women Forum)-Indian Federation of Culinary Association, to strengthen the role of lady chefs in the hotel industry. An active member of various Culinary Forums and Associations. Have authored many books and articles on Culinary & Patisserie including CBSE BOOKS.
Conferred LADY CHEF OF THE YEAR-2012-13 by Ministry of Tourism, Government of India & "LADY CHEF OF THE YEAR-2010" by PHD Chamber & Indian Culinary Forum besides many accolades at various platforms.
Passionate to revive the rare & dying art of Sugar Craft .Focused on representing India at international competition to bring first ever "GOLD" in Sugar & Chocolate sculptures.