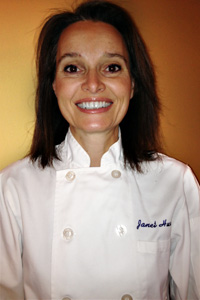 JJ Pastries by Design
Janet loved to cook, bake and enjoy food her whole life. Being a wife and a mother created the most excellent arena to learn and create her own style in the kitchen. When her children were old enough she went back to school. She yearned for a career and a degree. After achieving her associates, she was ready to transfer to a four-year college and finish out her bachelors. The only thing that stood in her way was would being a high school math teacher help fulfill her creative side. She new she wanted to be a pastry chef and realized that to be taken seriously she needed to attend school.
She applied to pastry school and a college. Whichever one came in first was the one that was meant to be. She took each application to heart and when Kendall College came back with a yes dove in headfirst. It was love at first class. It was hard and great all in one. Every class made her push harder. Her family and friends stood behind her and encouraged her the whole way. When it was time to do the internship only one place could make her happy. Disney. She was accepted and left everyone for a three-month internship at The Yacht and Beach Club Resort Bakery. It was terrifying and wonderful, and she missed her family more than she could imagine. She pushed forward and before she new it, it was over. Only five more months of school and graduation neared. Mission accomplished, but what now.There was no way that the learning was over. So, French Pastry School here she came.
Another six months flew by and this time she did permanent stages at Trotters to Go and Take the Cake through the school semester before classes. They both hired her. Take the Cake started first and Janet worked through October, as the season started to slow Trotter's To Go called and she worked there too. In October Trotters asked for more hours. It was perfect one was slowing and the other was picking up speed.
After a year and a half at Trotter's Janet learned that the French Pastry School was looking for interns for the gateau program. She was so excited this meant learning new things and working with and for some of the greatest Chef's. She had wanted to do that class before and it was all too good to be true. She applied immediately and without hesitation. The long wait brought good news she made it. She finally had her cake and got to eat it, too. She loved it. She loved cakes. She loved her Chef's. After graduation and the thought of a new career, she dove into the job market. She wanted her own place but was not sure she was really ready. Janet searched and with the help of her friends she landed a job at Park Hyatt Nomi. She is currently working there and enjoying making cakes and so many other things at The Hyatt. She is not sure where the wind will take her but she knows that pastry, cakes and flowers will always be a part of her life.