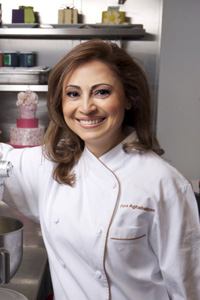 Wynn Las Vegas
As chief cake designer for Wynn Las Vegas and Encore, Flora Aghababyan upholds the Wynn standard of excellence through her whimsical and uniquecake creations. Since joining the resort in 2007 as a cake artist, Aghababyan brings her sharp talent and a keen imagination to all of her designs.
Growing up in Armenia, Aghababyan began baking as a child, and her hobby quickly revealed itself as a passion. As her interest in pastry arts grew, she focused on learning everything she could to produce edible, dream-like cakes. She went on to refine her skills in several Russian and Armenian bakeries.
In 2000, Aghababyan came to the United States to work as a pastry chef at Chalet Pastry in Hollywood. Shortly thereafter, she joined the Bellagio Las Vegas as chief cake designer where she catered to celebrity clientele and showcased her talents by creating multi-dimensional cakes and pastries.
In August 2007, Aghababyan joined Wynn Las Vegas, where she prepares and adorns cakes for weddings and special events held at the resort. She enjoys transforming cakes into elaborate works of art, contrasting her intricate sugar work with simple flavor combinations, such as vanilla cream with assorted berries. Her pastries have been showcased in competitions such as "Food Network Challenge," and her cakes and pastries have been featured in People, Star, Wedding Stile and Brides magazines. Most recently, she was awarded the World Grand Prize in the Grand National Wedding Cake Competition in Tulsa, Oklahoma.