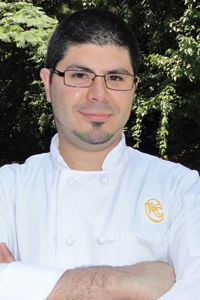 Cherokee Town & Country Club
Originally from Argentina, Christian developed his love for pastries at an early age. Along with his mother they used to challenge themselves at home by cooking all kind of delights. His friends and family discovered his talent and used to ask him to cook and bake for them; from cookies to wedding cakes.
He always knew pastry was his passion but he wanted to dive in deeply in this extensive sweet world. That's reason why he decided to become a Pastry Chef at Le Cordon Bleu in Atlanta. Being around excellent and recognized Pastry Chefs pushed him to levels he never knew existed. He began his externship at Cherokee Town & Country Club in Atlanta, GA; where he had the pleasure to work closely with Chef Heather Hurlbert. Today he is still working at Cherokee Town & Country Club under the talented Executive Pastry Chef Alex Hwang. Her skills, enthusiasm and great passion for Pastry have inspired him in unimaginable ways.