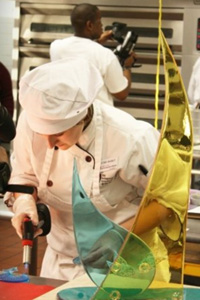 Madd Sweets
With a passion for food Tori McKinley threw herself head-first into the restaurant world. After several years in the restaurant industry, Tori graduated from The Art Institute of Atlanta under Chef Paul Bodrogi in 2008. She quickly became the Pastry Chef at Honey Bee Bakery in Oxford, Mississippi making Artisan Breads, Pastries, and Specialty Cakes for Owner/Pastry Chef, Shannon Adams, whom Tori credits much of her baking knowledge to.
In 2012, Tori travelled to New Zealand and studied the work of Pastry Chef and Chocolatier, Kevin Martin. After returning to Atlanta, she became the Pastry Chef at Affairs To Remember Caterers. In 2014 at Pastry Live, Tori unveiled "Madd Sweets." Madd Sweets specializes in catered desserts for private events and specialty cakes, and is described as "familiar flavors revisited with fun."
Tori is currently the Assistant General Manager and Event Coordinator at Tavernpointe in Atlanta, Georgia. In her spare time, Tori continues to compete in the pastry world and work on developing Madd Sweets.