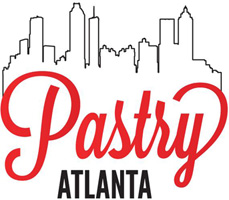 Featured at Pastry Live this year is Pastry Atlanta, highlighting Atlanta's finest pastry chefs from area restaurants, bakeries, hotels and more.
Come taste the delicious desserts and pastries they'll be preparing and vote for your favorites to win "Atlanta's Best" awards.


This year's talented participants include:
Charles Barrett – Park 75 at the Four Seasons Atlanta
Luc Beaudet – Douceur de France
Taria Camerino – Sugar-Coated Radical
Natasha Capper – Piedmont Driving Club
Ami Dand – A Legendary Event
Addison Dudek – Seed Kitchen and Bar
Chris Flores – Ratio Bakeshop
Heather Hurlbert – HHDesserts
Derrell Lawery – Sterling Spoon Fresh Culinary Management
Andrea Litvin – The Spence
Sonya Pearson – Five Minutes of Happiness
Keith Schroeder – High Road Craft Ice Cream and Sorbet
Team of Culinary Students – Creations at the Art Institute of Atlanta
Tisha Rosamond – Nothing Bundt Cakes
Maggie Sweeney – The Cake Hag
Aly Moler/Holly Pezzano – Frozen Pints featuring Happy Hour Confections
Amanda Parker – Villa Christina
Don't miss out on meeting these talented chefs and tasting some of their best work!