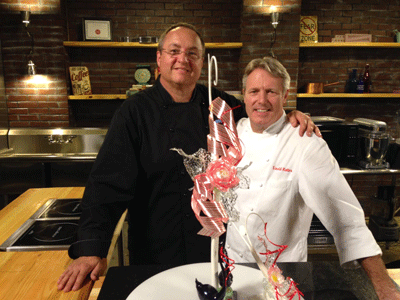 Pastry U has been on the back burner for a while. I forgot how great these video classes really are.
A video would be a great gift for a budding Pastry Chef. 
Don't take my word for it I just came across these reviews of the classes.
Great courses ! Very informational and in detail. Thank you !
"Chef Laiskonis is incredibly knowledgeable and always willing to share it. He has a way of explaining the reasoning and science behind the techniques in such an easy way to understand. It's information like that which helps pastry chefs adapt and successfully change recipes to suit our needs and ideas. The amount of information covered in just this course was astounding, covering a wide variety of topics.""
Ewald's course is magnificent . He explains in detail all the elements necessary for a perfect show piece."
"I love these videos . The kitchen space is beautiful. Instructors are easy to follow and understand. Chef Notter is fabulous as always!"
"Great Class !
It's amazing! Looking forward for the next class."
"This class was truly fantastic. Chef Kim's technique is very inspiring. I loved the sphere. My only regret is that I could not eat it immediately! The plating technique is truly beautiful."
"Very interesting!, Very informative demonstrations."
"intro to pastillage. It is a marvelous learning experience watching chef Notter work his sugar magic. Informative and easy to follow, this course was great for me even though I work primarily in chocolate. Always worthwhile learning something new.
As a beginner, I can recommend this course to other beginners and those who want to refine their skills."
"I love Chef Notter! He's such a great teacher and this video was very good. Very informative."