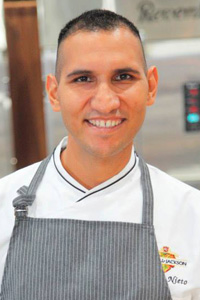 Robert Nieto
Pastry Chef
Jackson Family Wines
A native from Texas, Robert received his cooking and baking certificate from Del Mar community college. His first job was at the Corpus Christi Country Club as a line cook but always had a thing for sweets. It was here where the Pastry Chef let him work with him side by side to learn the fundamentals of pastries and baking. Robert then headed west to Las Vegas to work in five star hotels such as Bellagio, Paris Las Vegas, and the Venetian. Robert finally got his break by landing a job by world-renowned Chef Thomas Keller as the Pastry Sous Chef at Bouchon Bistro. He then had the opportunity to move to Napa Valley as the Pastry Chef of Bouchon Bistro and Bouchon Bakery in Yountville. Robert then moved to Sonoma County to work at a One-Michelin Restaurant, Madrona Manor run by Executive Chef Jesse Mallgren. It was here where he explored Molecular Gastronomy that could add texture to his desserts. Robert joins the Jackson Family Winery as the Pastry Chef. He is always on the lookout for new innovations that could tie in with the wines.
---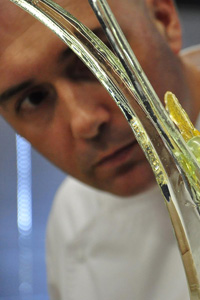 Olivier Saintemarie
Pastry Chef

After leaving a conventional path at 15 after graduating high school, Olivier started an apprenticeship at the Pavillon Dauphine in Paris. He then discover the world of petit fours, plated desserts, chocolate and sugar work.
Following one year in the French Navy overseas, he began his advanced study. After 5 years of continuing education, changing position at every opportunity, and trying to learn as much as possible, Olivier secured his Master's degree in Pastry and Baking.
In 1997, he relocated from Paris to London, as the Head Pastry chef for Rensow. Always seeking advancement, he returned to the classroom this time seeking a certificate in advanced English from Cambridge.
Soon after, he joined the Disney Cruise Lines in Venice where they were building their first two ships, Magic and Wonder. He quickly received a promotion to Executive Pastry Chef within only a few months.
In 2003, Olivier followed an opportunity to work in Orlando, Florida, to work in a French bakery while also heading up the production for their sister restaurant and several coffee shops, later merging with Douce France Bakery in Winter Garden.
In 2011, he began to share his extensive industry knowledge as instructor at the Notter School of Pastry Arts, alongside Pastry World Champion Ewald Notter.
Currently, Olivier is the Executive Pastry Chef of the French Pavillon at Epcot, leading the grand opening of the company brand new 7,000sq. ft. bakery Les Halles, ice cream shop L'Artisan des Glaces as well as dessert production for 220seats restaurant Les Chefs de France, and 110 seats fine dining Monsieur Paul.