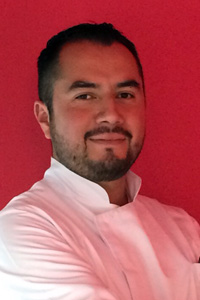 Tout Chocolat
Osvaldo was born and raised in Mexico City where he began studying Culinary Arts at Centro Culinario Ambrosia in 2006.
After graduating in the summer of 2008, he apprenticed at Paradis catering company in Madrid, Spain, where he learned bread and pastry in large scale production.
Using his experience abroad, Osvaldo returned to México and worked for catering company Ambrosia which included Centro Libanés and Banquetes Ambrosia doing mostly pastries for large functions.
In 2010 Osvaldo was hired as head baker for Dulce Patria restaurant in México City where he quickly learned the discipline and rigor of a fine dining establishment. During that period Osvaldo took professional pastry courses with top pastry chefs such as: Christophe Adam, Christophe Michalak, En-Ming Hsu and Christophe Rhedon (MOF)
In 2011 he joined Tout Chocolat as a chocolate assistant and quickly climbed to become head chocolatier in March 2015.