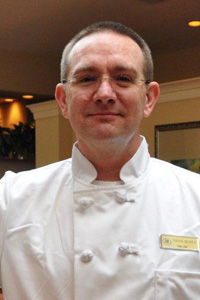 Hilton Sandestin Beach Golf Resort & Spa
As Pastry Chef at Hilton Sandestin Beach, Becker participates in the creation of all the delectable treats that come out of the resorts' kitchens. From pastries and desserts to breads and other baked goods, Becker adds his unique variation on classic recipes to assert his creative side into each item. Becker's artistic flair is evident through the garnishing and plating of each and every item, creating that "wow factor" to everything that is served from the pastry kitchen at the Hilton Sandestin Beach.
A veteran in the culinary trade for more than 20 years, Becker came to the Hilton Sandestin Beach with experience from a number of resort properties, including a AAA Four-Diamond resort in Central Florida. There, he took on roles including restaurant manager, assistant pastry chef and head pastry chef, specializing in wedding cakes, center pieces and holiday décor. Becker graduated with a degree in fine arts, but found his passion for cooking while working in the hotel industry and learning culinary skills from great chefs from around the globe.