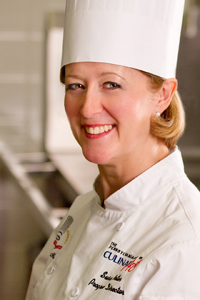 Following culinary school in England, Susan moved in Germany to develop her skills and gain more experience in the pastry field. Switzerland followed, where she was taught how to produce hand crafted chocolates. During this time she attended sugar classes and then joined forces with Ewald Notter as co-owner and instructor of the International School of Confectionery Arts. They traveled all over the world teaching and demonstrating sugar art.
In 1998 Susan took the position of Corporate Pastry Chef with Albert Uster Imports, she also qualified for the ACF Culinary Team 2000 representing the United States in Luxemburg, Chicago, Switzerland and at the Culinary Olympics in Erfurt Germany.
In 2001 she relocated to Birmingham Alabama to open a Baking and Pastry division of Culinard at Virginia College, later she became the Vice President and Executive Directive of Culinard overseeing 450 students and 20 faculty members.
Susan now is the Director of the Pastry Arts program at the Pennsylvania School of Culinary Arts in Lancaster, PA and also a partner and executive pastry chef of Susan Notter Pastries, LLC.
She was named Top Ten Pastry Chef in 1999 and 2000, was invited to be part of the Distinguished Visiting Chef Program at CIA and Johnson and Wales, and has competed on the Food Network; winning Halloween wars in October of 2011.