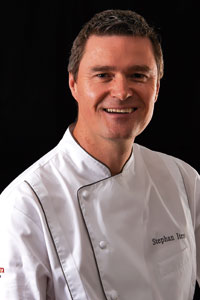 Originally from Berne, Switzerland, Chef Stephan Iten has several years of broad experience in the field of Chocolate and Pastry. As Felchlin's Export Corporate Pastry Chef, he lends his exceptional culinary experience and skills to other professionals through pastry classes and seminars in Switzerland and worldwide. It is always with love and enthusiasm that he conveys his passion for creating chocolate and pastries in a contemporary and highly innovative style.
Chef Iten gained knowledge in his hometown of Berne before travelling overseas to work for the most prestigious hotels and restaurants in the United States, including Swissôtel in Boston. Later on he accepted the position as Executive Pastry Chef at the Ritz Carlton Marina Del Rey/California and was responsible for large banquets, weddings and corporate functions. After some years of working experience he was looking for a new challenge – in 1994 he decided to return to Switzerland. During this period he attended a higher education at the Swiss Confectionary and Chocolate Association and achieved successfully the title as Certificated Pastry and Chocolate Master.
In 1996 Stephan Iten started his career at Felchlin. This opportunity took him all around the world, including the United States, Middle East and Far East affording him new professional relationships and the appreciation of culinary influences from other cultures.
The professionalism and specialised knowledge of Stephan Iten was accomplished in 1998 when he was awarded as Pastry Chef of the year at the Johnson & Wales University College of Culinary Arts in the United States (Providence/Road Island). Stephan Iten aspires always to be ahead of the trends – his creativity and individual support towards our partners and customers excel him as a highly appreciated consultant.