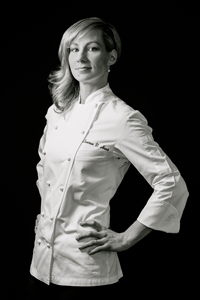 Lauren V. Haas is a full time faculty member at Johnson & Wales University in Providence, RI. In addition to her role at Johnson & Wales, Lauren works with Koerner Foods as an ambassador for Sosa Ingredients and 100% Chef, leading manufacturers of premium ingredients & equipment. She is also a member of the Cacao Barry Ambassador Club.
​
Prior to joining Johnson & Wales, Lauren honed her skills at some of the country's most prestigious establishments, most notably the White House, under then president George W. Bush, as well as Albert Uster Imports, the Hotel du Pont, the Inn at Little Washington, and CoCo Sala, a boutique chocolate lounge in Washington D.C..
​
Well versed in the foundations of classical pastry and emerging techniques and trends, Lauren's passion is educating students and pastry professionals in the art and science of pastry.