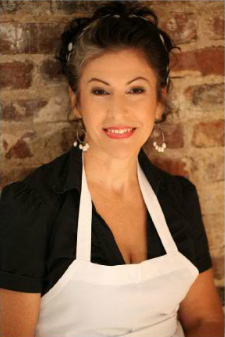 Karen Marie Portaleo arrived in the world of cake decorating by taking a few unconventional paths. With a Bachelor's Degree in Fine Art from the Atlanta College of Art, she launched her career as a jewelry designer for a high end accessory house based in Atlanta. During this time, she still created art in her home studio. One of her patrons happened to be one of the directors of the advertising department at Neiman Marcus. She commissioned Karen to design 7 sets for a children's photo shoot, and with that a new career was launched. Karen has created props and sets for 16 years, and her client list includes Neiman Marcus, Nordstrom, Nestle Candy, Maybeline, Target, Dove Soap, Tom Ford and Alexander McQueen.
During this time, she became interested in clay sculpture, and was soon picked up by Ferrin Gallery. She has shown her work internationally, and is in 3 permanent museum collections. Her work also appears in the books "500 Figures", and "500 Teapots". Her figurative work has been included in college courses on topics as varied as Women's Studies, Contemporary Art, and The Politics of the Female Figure in Modern Society.
Upon visiting a bakery that her friend Stacey Eames had opened, she noted that there were no decorative items in the case, and offered to do a few cookies. Having no culinary training, and only decorating cookies occasionally with her daughter, she began making small items for the bakery. They were well received, and eventually she began taking orders for cakes. That was October of 2005, and since then cake decorating has become the main focus of her career.
Her television appearances to date have included 4 Food Network Challenges;
Beauty and the Beast Challenge, as assistant to Joshua John Russell, which they won.
Urban Legends Challenge, as the competitor, for which she came in second.
Comedy Cakes Challenge, as assistant to Joshua John Russell, which they won.
Best in Show Challenge, as the competitor, which she won.
She has also taped two upcoming series shows, both of which are TBA.
Her cakes have appeared in Cake Central Magazine, National Geographic Kids Magazine, Atlanta Magazine, Jezebel Magazine, Atlanta Bride, and Grace Ormond (upcoming issue). She has made cakes for celebrities such as Sir Elton John, Keishia Cole, Ne-Yo, Demi Moore, T-Pain and Li'l Wayne, and Sheree of Real Housewives of Atlanta.
She is currently renovating her Cake Shop at Highland Bakery in Atlanta, and is anxiously awaiting having a proper shop! She will be teaching classes in her new space, as well as across the country and in Canada. She feels lucky every day to work with one of the most talented teams in the industry!
To view a wide range of her work, please visit www.highlandbakery.com, or visit her blog www.specialsugar.blogspot.com.
View her cakes and learn more about Highland Bakery in Atlanta, please visit www.highlandbakery.com