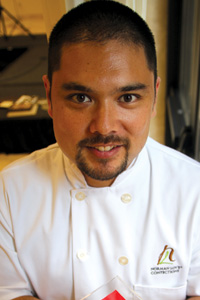 Norman Love Confections
Justin Fry was born in Wichita, Kansas and moved to his mother's native country in the Philippines when he was 3 years old while his father served in the military. Ultimately, the family settled in Rio Rancho, New Mexico where he attended high school with studies in music.
Upon graduating from high school, Fry attended New Mexico State University as a music performance major. During his free time, he made cakes for friends and family and when asked to bake a wedding cake for a friend, he discovered a true interest in pastry. Researching videos on techniques, he became fascinated with artistry in chocolate which helped solidify his career path.
While researching pastry schools and saving money for culinary school, Fry moved to Orlando and worked for Walt Disney World for four years in merchandise and transportation. He left the Sunshine State to move to Denver, Colorado to attend Johnson and Wales University where he received an Associate of Arts in pastry arts in 2010.
Upon completing an internship, Fry accepted a position at The Willard hotel, in Washington, D.C., as a pastry cook in charge of dessert service for Café du Parc with menu conceptualized by three-star Parisian chef, France Antoine Westermann.
In 2012, Fry accepted a job with Norman Love Confections in Fort Myers, Florida, as a chocolatier to hone in his chocolate skills and continue his culinary education. Currently, he is responsible for novelties and novelty production as well as overseeing ganache production.
In 2013, he assisted a Norman Love Confections' chef chocolatier in the Paris Gourmet National Pastry Chef of the Year competition and came in third place. In 2013 September, Fryplaced second overall with a gold medal at the Florida Pastry Challenge Showpiece Competition in Orlando.
Fry travels to see as many competitions as possible to prepare for his future goal ofcompeting nationally. He is very fortunate to have the opportunity to work with the professionals at Norman Love Confections as well as the many world renowned chefs who visit Chef Love. Hecontinues his education by taking classes to further develop his showpiece and pastry skills while primarily working in chocolate.