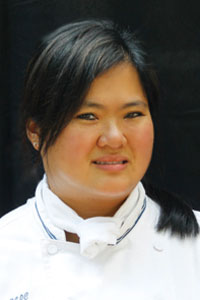 Gretchen K. George was born in Korea, and raised in Mechanicsburg, Pa. At an early age, she developed a love for cooking, and began her first professional cooking and cake decorating classes in high school. It was during this time, she realized that cooking was a profitable way to use your creativity and art skills.
In 1993, after graduating from (PICA) Pennsylvania Institute of Culinary Arts, she moved to Atlanta to begin her externship at the Ritz Carlton, Buckhead. Here rotating throughout the Pastry shop and learning how to make products from all shifts created a strong foundation. In 1996, she began work at the Villa Christina and soon met mentor Executive Pastry Chef Paul Bodrogi. Chef Paul was instrumental in fine-tuning her previous training, by putting emphasis on individual flavors, style, and creating unique desserts that had an emphasis on flavor.
Throughout the years, working at various restaurants, hotels and private clubs in the Atlanta area wedding cakes were always where her love was. Taking continuing education classes from Nicholas Lodge since the late 90's has helped given her the expertise needed to become a true sugar artist specializing in wedding cakes and gum paste flowers.
Today, Chef George continues to do specialty cakes, but her main focus has been teaching. For the past 8 years Chef George has been teaching Baking and Pastry Classes at Le Cordon Bleu in Tucker, Ga. She has made appearances on the Atlanta Morning Show, and been seen in The Atlanta Business Chronicle, and Season's magazine. In 2013, Chef George also took second place in Pastry Live's Art of Cake competition.