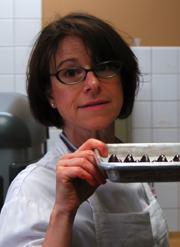 Michelle Tampakis is the Owner of Whipped Pastry Boutique, a wholesale bakery that specializes in gluten free products. The company also creates custom cakes, and confectionery items.
Michelle continues to teach in the Career Baking and Pastry Program at the Institute of Culinary Education in New York City, and is the Director of the Center for Advanced Pastry Studies (CAPS@ICE) program. This program offers continuing professional development for pastry chefs, through hands-on classes and demonstrations by high-level industry professionals.
Michelle has been a competitor in two of the Food Network's Chocolate Challenges, in July 2005, and October 2004. She has participated many times in the Annual New York Chocolate Show, creating dresses and wearable chocolate garments, even an Iron Man costume. She was chosen as one of Dessert Professional Magazine's Top Ten for 2010. A frequent guest on Martha Stewart's Morning Living radio program, her expertise with baking and chocolate is frequently sought after. A graduate of the Culinary Institute of America, Michelle also develops recipes and has travelled across the United States giving product demonstrations as a consultant for Krinos Foods, All-Clad, and Athens Foods. She also consults on new business ventures in pastry and baking.