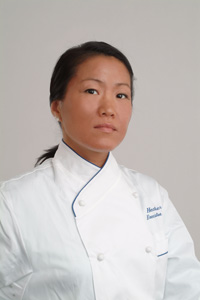 In 2012, Heather Hurlbert, Pastry Chef and "Cheftestant" on Bravo's hottest new series, Top Chef: Just Desserts, launched HHDesserts, her new line of pastries ranging from couture wedding cakes, chocolates, and entremets. This award winning chef was most recently the Executive Pastry Chef at Cherokee Town and Country Club, ranked the #1 Platinum Country Club in the U.S. During Heather's pastry career, she won the 2009 National Pastry Chef of the Year from the American Culinary Federation and in 2004 taking the gold medal at the IKA Culinary Olympics in Erfurt, Germany.
Graduating from the Culinary Institute of America, Heather continued her studies at Ecole Lenotre in Paris, France, The French Pastry School, National Baking Center, the Notter School of Pastry Arts, and most recently, Aula Chocovic in Vic, Spain. After working in the Caribbean, Minneapolis, and Pittsburgh, Heather came to Atlanta to work for the Four Seasons, Piedmont Driving Club, and the Atlanta Athletic Club. In 1999, Heather came to Cherokee Town and Country Club to train and work under her mentor, Certified Master Pastry Chef, Chris Northmore for 5 years.
Heather's philosophy on pastries is clean, seasonal, and ingredient-driven. "Beautiful pastries can be both comforting and delicious yet refined in technique and style" says Heather. A passion for her craft has led Heather to be an active member in Atlanta's culinary scene. Heather is a member of Les Dames d'Escoffier, a Program Committee advisor at Le Cordon Bleu College of Culinary Arts, and an Awards Selection advisor for the American Culinary Federation. During her spare time, Heather loves playing ball with her two boxers, Lanikai and Kamea.