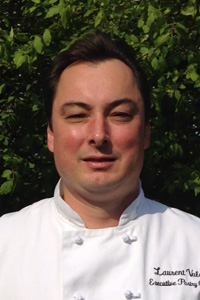 Laurent Vals Handcrafted Chocolates
Born in Paris and raised in the town of Perpignan, located in the south of France, Laurent Vals was 16 years old when he began his professional education at "l'Ecole Hoteliere du Moulin a Vent". He received his diploma as a chef, and then going on to receive a second diploma, as a pastry chef.
At the age 20, Laurent began an international career as a chef, traveling to the United States to work in Charleston, South Carolina. By age 25, Laurent was working in restaurants in Paris and New York City. Then, five years later, at age 30, Laurent returned to the east coast of the United States. In 2001, he settled in Newport, Rhode Island, where he started a "second" career as the pastry chef of the Chanler hotel and spiced pear restaurant Then, in January of 2008, he started a small on line retail store for bonbons only : Laurent Vals chocolates also nicknamed "lava confections" by the locals.