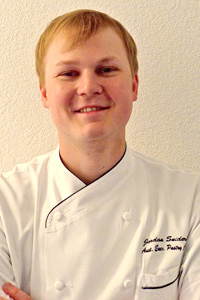 Mandalay Bay Resort and Casino in Las Vegas, NV
I was born and raised in South Carolina, growing up in the coastal city of Charleston. My career started in a retail bakery producing artisan breads and croissants, later progressing to become a pastry chef at The Carolina Yacht Club. My wife and I moved to Las Vegas in 2010. I worked at the Mandarin Oriental to help achieve the hotels 5-star status and at the Paris Resort and Casino as Pastry Chef Tournant. I took the job of Assistant Executive Pastry Chef at Mandalay Bay in early 2013 where I oversee banquet, retail, restaurant and chocolate production with a staff of 60 bakers.
In November of 2013 my wife and I welcomed our first child, a daughter named Hazel Jacob. We have two dogs and a cat and in my spare time I enjoy playing golf, traveling, fine dining and spending time with my family.