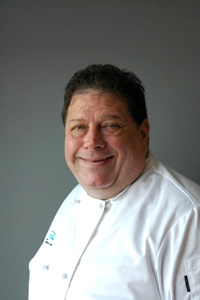 Moxie/Red Restaurant Group
Currently Chef Charles Heaton is running his own business consulting to the Food Industry to both Manufacturers and Food Service and Retail operators. He is a graduate of the CIA and holds the certification of Certified Research Chef and Certified Executive Chef. His experience is with retail product lines as well as the prominent US chain restaurants and all of the major casual dining chains in the Canadian Market working in conjunction with food service product manufacturers. His work also includes the development of private label items for Retail, Deli and Food Service areas of private and national grocery chains as well as the bakery program for a local grocery chain.
Current Retail product accomplishment include two full product lines launching in a major retailer under a private label and the second into general grocery sales. Annual sales of each of these lines is budgeted at over $50MM.
Chef Charles offers a solid culinary base with a passion for food, combined with knowledge of food science and manufacturing and technology. He is qualified with a wide range of creative techno-culinary experience in diverse food service, retail and R&D positions. He excels in Product Development as well as Commercialization and works project management from concept to production and application. Experienced in Menu design and presentation for fresh and frozen food manufactures as well as the retail and grocery market. Areas of experience include sauce, entrée, and side dish formulation as well functional and flavored beverage development. Chef Charles is also passionately well versed in World cuisines and ingredients. He is successful in communicating, training and developing people through example and interactivity in the production of manufacturable, culinarily sound products
For five years prior to starting his own company he was Product Development Chef / Technologist with Nestle FoodServices in both the refrigerated and frozen areas. He is strong in developing and matching custom products for chain customers as well as products for the branded product portfolio and their application. This includes matching flavor, function and label declaration breakdown. As a chef he is well versed in the evolution of the Speed –Scratch concept of product development and application.
Some of his other successes include the development of a Demi-Glace concentrate with an authentic taste and mouth –feel, freeze/thaw/heat stable butter based sauces and a series nutritional special diet airline meals. He is also known a resourceful product developer who produces clear, accurate recipes and works with a strong sense of pride and urgency.
As a culinarian Charles Heaton's European fine dinning experience includes six years of work in the kitchens of two a and three star Michelin Guide restaurants. These restaurants include RESTAURANT AUBERGINE***, Munich, Germany, RESTAURANT BRUDERHOLZ**, Basel, Switzerland, RESTAURANT HOTEL DE VILLE, Echallens, Switzerland and RESTAURANT LA MERE GUY**, Lyon, France. In the domestic arena Chef Charles has been executive chef in a number of large conference and resort hotels as well as a corporate executive chef of for LSG SKY Chefs. The use of these solid culinary foundations gives Charles Heaton the skill and reference to incorporate authentic, current and classic flavor foundation into his bench and manufacturing work. His culinary experience has been round to include the development and operation of both food service and retail bakeshop operations from restaurants to full service bakeshops supplying breads and pastries to multiple outlets and locations.
Charles Heaton is a graduate of the Culinary Institute of America in Hyde Park New York and has attended the University of Denver, School of Hotel and Restaurant Management. He has also attended food science courses at Rutgers University, University of Kansas and University of Nebraska. He is also a graduate of the Dale Carnegie Management Course and Public Speaking Course. He is an active member of the Research Chefs Association, American Culinary Federation and Institute of Food Technologists. Chef Charles is a guest instructor with the Food Science Department of Purdue University.
He is a citizen of the United States of America and is fluent in French, German and Spanish languages.
He is a passionate food, wine and pastry enthusiast and has a strong interest in woodworking, automobile sports, international culture and travel.
As a food service product development professional Chef Charles Heaton offers a broad base of experience and skills from fine dining to mass production of quality products. This combined with his innovative product development skills and experience and ability to grasp the need of his customers makes him an asset to the teams he joins and supports. He is a diverse and well-rounded person and a passionate food professional that embraces diverse opportunities. As a product development consultant Charles Heaton dedicated to a high level of customer service, integrity and accuracy.