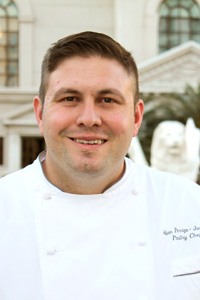 Julian Perrigo-Jimenez
Assistant Executive Pastry Chef
Caesars Palace Resort and Casino in Las Vegas, NV
Chef Julian Perrigo-Jimenez is Currently the Assistant Executive Pastry at Caesars Palace Las Vegas. Before being called back to return to the action of Las Vegas he was Executive Pastry Chef at the iconic Fairmont San Francisco. Prior to that, he opened the cosmopolitan Resort & Casino as Pastry Sous Chef, overseeing main production of pastry for all of its outlets and creating custom showpieces for special events and buffet display. He also worked as an Assistant Pastry Chef at Bellagio Resort & Casino. It was before that where he started his career in Las Vegas as a Pastry Chef Tournant at Paris Hotel & Casino. He also worked onboard Cruise ships for NCLA where he served as both Assistant Chief Pastry and Chief Pastry.
Perrigo-Jimenez attended the California Culinary Academy and is actively involved in the Pastry Chef community. He also competed in the 2009 National Pastry Championship as well as Pastry Live in 2013 where his team received the Sponsor's Choice award. When creating pieces, he highlights his creativity through inspired abstract design that produce unique works that truly stand out.
---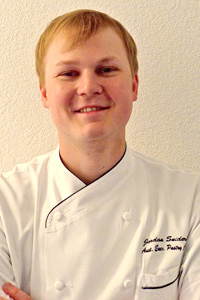 Jordan Snider
Assistant Executive Pastry Chef
Mandalay Bay Resort and Casino in Las Vegas, NV
I was born and raised in South Carolina, growing up in the coastal city of Charleston. My career started in a retail bakery producing artisan breads and croissants, later progressing to become a pastry chef at The Carolina Yacht Club. My wife and I moved to Las Vegas in 2010. I worked at the Mandarin Oriental to help achieve the hotels 5-star status and at the Paris Resort and Casino as Pastry Chef Tournant. I took the job of Assistant Executive Pastry Chef at Mandalay Bay in early 2013 where I oversee banquet, retail, restaurant and chocolate production with a staff of 60 bakers.
In November of 2013 my wife and I welcomed our first child, a daughter named Hazel Jacob. We have two dogs and a cat and in my spare time I enjoy playing golf, traveling, fine dining and spending time with my family.