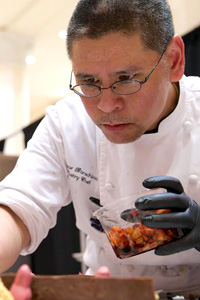 Chef Cesar Barachina started his career at an early age. When he was able to walk and talk, he was in the kitchen with his parents helping them cook the next family meal. As he grew up, the culinary arts was in his blood with his grandfather, father and brother being executive chefs. It was destined that he was to follow into the family tradition and take the culinary path.
So after graduating high school he attended the Florida Culinary Institute of West Palm Beach and enrolled in there International Baking and Pastry program where he discovered his love and passion for pastries. Studying under Chef Jack Marshall and Chef Manfred Schmitcke, Cesar honed his pastry and bread making skills. After graduating and earning his Associates degree, he decided to travel and learn from other great pastry chefs around the world. He traveled to Europe, Asia, and Australia to name a few, while staging in hotels, restaurants and anywhere he could, to learn and work with some of the great pastry chefs of the world.
When he finished traveling he settled down and started to work for companies such as The Ritz Carlton Hotels, Norwegian Cruise Lines, and Hilton Hotels. Most recently he has worked for L'Auberge Casino Resort in Lake Charles, Louisiana as the Pastry Sous Chef and was the assistant to Pastry Chef Bill Foltz, one of the top 10 sugar artist in the US. Now Cesar has taken a bigger role in his career as he has assumed the role of the Pastry Chef at Turning Stone Resort & Casino in Verona, New York.
Cesar is asked all the time why do you like pastry so much? His response "It's not that I like it. It's that I love it. It is my passion and my love to create great works of art and to put great flavor into them." Cesar doesn't see being a Pastry Chef as a career, but he sees it has his life and an adventure. Even with his new role, he never stops learning by attending pastry classes, keeping abreast with the latest pastry literature, competitions and pastry trends, he continually push himself forward. His very good friend Chef Rudy Van Veen once said, "Pastry will consume you and take over you and just enjoy the ride."
Most recently Chef Cesar has competed in Pastry Live 2014 in Atlanta,GA in the categories of Chocolatier of the Year; Signature plated Dessert, and The Verrine competition. Chef Cesar also competed on The Food Network's show called Sugar Dome in the episode "Cops and Robbers" in which he won 1st place and $15,000 in prize money. and he also competed in the 24th Annual US Pastry Competition for Pastry Chef of the Year in New York.