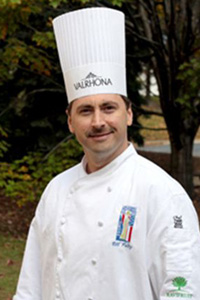 Bill Foltz
Pastry Chef
L'Auberge Casino Resort
As Pastry Chef at the award-winning, luxury L'Auberge Casino Resort in Lake Charles, Louisiana, Bill Foltz is responsible for overseeing a team of bakers and pastry cooks providing unique desserts for all L'Auberge food outlets, including eight dynamic restaurants, room service, large conferences and high end guest functions. Foltz maintains an environment that creates excitement for guests and employees; trains and retains a highly skilled workforce; maintains budget and staffing for efficient bakery operations; and effectively implements changes to improve operations and ensure quality baked goods and new menu items. He assumed the position in June 2009.
Foltz brings more than twenty years of dynamic experience to L'Auberge. He specializes in fine dining, high volume banquets and exquisite chocolate and sugar showpieces with successful leadership positions at 4-star/4-diamond rated establishments.
Foltz comes to Lake Charles from Dunwoody, Georgia where he was the executive pastry chef for Alon's Bakery & Market; a multi-outlet bakery and market. Previously, Foltz was Restaurant Manager and Executive Pastry Chef at Salara Dessert Lounge & Bistro in Charlotte, NC.; the historic 350-room Sagamore Resort in Bolton Landing, NY., where he oversaw a team of pastry cooks supplying seven food outlets and a convention facility; and Assistant Pastry Chef of Pinehurst Resort & Country Club in Pinehurst, NC and Mohonk Mountain House in New Paltz, NY.
Foltz graduated from the NationalCenter for Hospitality Studies at SullivanCollege in Louisville, Kentucky with an associate of science in baking and pastry arts; and from HockingCollege in Nelsonville, Ohio with an associate of applied business degree in culinary arts technology. His extensive training includes certifications from Ewald Notter, Laurent Branlard, Olivier Bajard, Stephane Treand and Sebastian Canonne.
Among his many accolades, in 2006, Foltz earned a gold medal at the U.S. Pastry Competition and was named U.S. Pastry Chef of the Year and has been invited to judge the U.S. Pastry Competition since 2007; received a bronze medal at the 2009 National Team Championships; had consistently earned medals and honors at the U.S. Pastry Competition including 3 silver medals; won a gold medal from the French Consulate in Paris for Best Pastillage showpiece; a gold medal at the Annual Salon of Culinary Arts; and his pastillage centerpieces were featured in the National Culinary Review.  In 2010, he was awarded the prestigious honor of "Top 10 Pastry Chefs in America" by Dessert Professional Magazine.  Most recently Foltz earned a spot on the 2011 US World Cup Pastry Team and competed for the coveted "Coupe de Monde de la Patisserie" in Lyon, France where he captured the prize of "Best Sugar" for the Team. In 2013, Foltz was awarded Best Sugar Showpiece, Competitor's Choice and Best Artistry for his team's work in Pastry Live's National Showpiece Championship.
---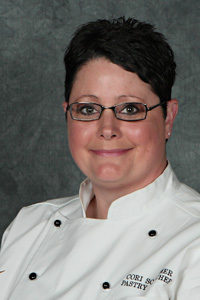 Cori Schlemmer
Pastry Sous Chef
L'Auberge Casino Resort
As Pastry Sous Chef at the award-winning, luxury L'Auberge Casino Resort in Lake Charles, Louisiana, Cori Schlemmer is responsible for overseeing a team of bakers and pastry cooks providing unique desserts for all L'Auberge food outlets, including eight dynamic restaurants, room service, large conferences and high end guest functions. She assumed the position in March 2013 at Pinnacle Entertainment's premier hotel and casino resort located in Lake Charles, Louisiana. L'Auberge features a 26-story hotel complex with 1,000 rooms and suites, championship golf course, full service spa and an expansive casino.
Schlemmer brings more than thirteen years of kitchen and management experience to L'Auberge. She specializes in wedding cake and specialty cake design and construction. Additionally, she assists the Executive Pastry Chef with high end amenities and showpieces, working in both chocolate and sugar to create elaborate and tasty displays for guests at the award-winning resort.
Prior to joining L'Auberge, Chef Schlemmer Her extensive training includes the PGA National Resort and Spa in Palm Beach Gardens, Florida where she medaled as a member of the resorts ACF Junior Competition Team. She held the position of Sous Chef at Greenhurst Country Club in Auburn, Indiana and was Pastry Chef at Basin Harbor Club in Vergennes, Vermont before joining L'Auberge.
Schlemmer graduated on the Dean's List from the Florida Culinary Institute in West Palm Beach, Florida with an associate of science in culinary arts and a second degree focused on international baking and pastry. She continued her studies at the Culinary Institute of America at Greystone in St. Helena, California with classes focused on Artisan Breads and Advanced Wedding Cake Design.
In her free time, Chef Schlemmer is passionate about animal rescue. She also owns, breeds and shows Paint Horses and Quarter Horses.
About L'Auberge Lake Charles
L'Auberge Casino Resort is located on 242 acres of land in Lake Charles, La., two hours from the Houston metropolitan area. This premier facility is ideal for the business traveler or guest looking for the ultimate in hospitality and dining experiences, plus non-stop gaming action. The property includes a 26-story hotel complex with approximately 1,000 spacious rooms and suites; an 18-hole golf course designed by Tom Fazio; 26,000 gross square feet of meeting space, including a full-service business center and landscaped terrace space plus outdoor poolside lawn; two resort swimming pools, lazy river and private cabana courtyard; full-service barber shop, salon, spa and cardio fitness center; retail stores; ten innovative dining outlets; beachside bar, grill and marina; and top-name entertainment. The expansive 70,000 square foot casino features Vegas-like gaming action with 70 table games and approximately 1,600 slot machines, including a luxurious 7-table Poker Room, VIP Lounge and elegant High Limit Salon.
To learn more about L'Auberge, call reservations at 866-580-7444; visit www.mylauberge.com; find us on Facebook: www.facebook.com/laubergedulac ; Instagram @laubergelakecharles; or follow us on Twitter: @LAubergeLC . A complete project fact sheet can be found at www.mylauberge.com.