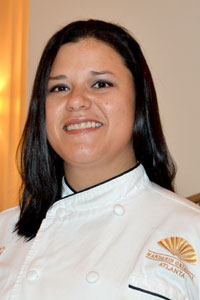 Mandarin Oriental, Atlanta
Analía Álvarez Bobber joined Mandarin Oriental, Atlanta in 2012 as Executive Pastry Chef. Growing up in the Canal Zone of Panama City, Panama, Bobber learned to embrace baking with her mother, especially when the aromas of Christmas cinnamon rolls filled the kitchen and the entire neighborhood indulged in the delicious delights year after year.
Upon graduating Magna Cum Laude from Le Cordon Bleu in Florida in 2005, Bobber began her career at Dolphin Resort in Orlando, Florida. Soon this was followed by two years at Westin Peachtree Plaza and three more at St. Regis in Atlanta before expanding her talents at Mandarin Oriental, Atlanta. Bobber executes creative direction for the pastry team for smaller receptions, as well as large-scale weddings and special brunch and dinners in the hotel's Café & Bar.
She continues to delight diners with meticulously detailed confectionery creations that satisfy the eye and the palate. Her culinary talents have also touched the Atlanta community through charitable projects such as the Toys for Tots gingerbread workshops, where she taught young children how to make their own gingerbread houses. Bobber has also received national press recognition by Forbes Travel Guide for her gingerbread clock, featured in the lobby of Mandarin Oriental, Atlanta in December 2013. Through her childhood experiences combined with knowledge acquired throughout many years of constant dedication, Chef Bobber is a star on the rise with years of passionate culinary pursuit ahead of her.