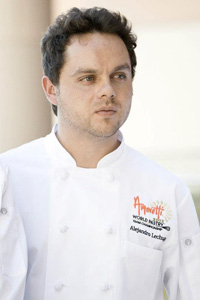 Alejandro Lechuga
Mexican Pastry Academy
Chef Lechuga was born in Mexico City. His artistic and creative side, combined with interest for cooking, guided him to attend the culinary school. It was there when he discovered his passion for the pastry arts. After completion of his culinary and Pastry degree at the "Universidad Iberoamericana", he started his apprenticeship at the French Embassy in Mexico City. When he finished, he worked as an assistant pastry chef at the 5 start Grand Coral Beach Luxury Resort in Cancun Mexico.
Chef Alejandro also attended several courses in pastry, chocolate and sugar at ECOLE de Bellouet Consail en Paris in 2001, 2003, 2005.
Alejandro is one of the most in-demand pastry and sugar instructors in Mexico. He is based in Guadalajara, Mexico where he teaches full time at the ECI. At the same time, Chef Lechuga works as a pastry chef consultant for several Mexican pastry shops and bakeries in the area of California.
Chef Lechuga has been in the competition field for a while. He was the National sugar champion in 2003 and got 3rd place at the Maya pastry championship 2007. His experience in international competition started in 2005 when he represented Mexico at the Coupe du Monde de la Pattiserie, and he has also competed at the World Pastry Team Championship in 2010 and 2012. He coached team Mexico at the Junior World Cup 2011 as well as the Pastry Queen in Rimini, Italy.
In 2012 Lechuga launched Caramell, his exclusive line of pastries, chocolate and sweets confections, Caramell products retails at refine gourmet food establishments, high-end grocery stores and exclusive restaurants.
---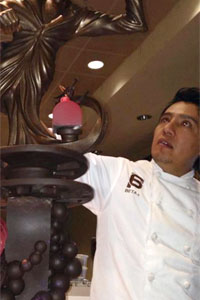 Victor Rivera
Chef Instructor
University of Claustro de Sor Juana
Chef instructor in the University of Claustro de Sor Juana, also works in the University Iberoamericana as teacher and coordinator.
He studied at the school of Gastronomía Artesanal, Alta Repostería.
He decided to start in 1995 to participate in competitions, as a student won the first place in La Sartén de Oro and then as a professional in Abastur (1996, 2002, 2003). In 2005 he represents Mexico in the Coupe du Monde du la Patisserie.
In 2019 with the Four Season´s team won the first place at the preliminary round in the Mayan Pastry Cup. Once again in the Latinamerican Pastry cup witn the Mexican team won for the first time in this category. (2011)
Also he has been in others competitions like in 2012 when he was part of the bread category team representing Mexico in the Fiera SIGEP on the World Bread cup winning the 2nd place in bread showpiece and 4th place in the overall punctuation.
In his daily work Chef Rivera enjoys to teach, but what he says please him the most is make sugar sculptures. He has being doing this along 18 years and it's a discipline where he has been distinguished itself is among the first to specialize in it . Nowadays he wants to continue with this sugar art and being the best.
Participate in a contest is something that has given great satisfaction and allowed it to consolidate in the pastry chefs group of the country.