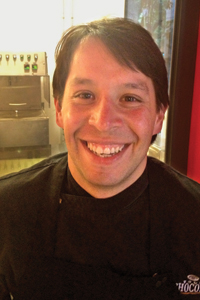 Tout Chocolat
After graduating from Culinary School in May of 2005, Chef Romo joined the prestigious Tout Chocolat team.
Chef Romo has always been passionate about pastry and chocolate since his family owns a restaurant and a bakery in Mexico City where he acts as a consulting pastry chef. Chef Romo has over 5 years of experience as a teacher in prestigious cooking schools such as Le Cordon Bleu in Mexico City and the University Claustro de Sor Juana.
Besides working as a chocolatier and teaching his craft in various schools as a guest teacher, Chef Romo enjoys the challenge of culinary competitions. In 2009, after winning the national selection for the Mondial des Arts Sucrées, he represented Mexico in the world finals in Paris, France where they were awarded 3rd place in the tasting category and 5th place overall. During preparation for the competition he worked closely with Christophe Rhedon. (MOF) During this time he developed a close relationship with the acclaimed chef and the result was the highest finish for a Latin American team in a Pastry World Championship.
He is in charge of the production of pastries, confisseries & chocolates and plays a big role in the developing of new products for Tout Chocolat.
Chef Romo has appeared in a number of publications and TV appearances during the past few years including "Cadena 3" and "cannel 22".