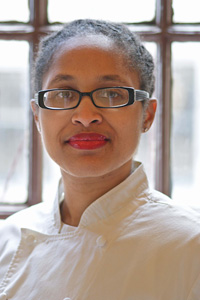 Pastry Chef de Partie
Cathedral Hall Restaurant
Chef Virginette Fitzpatrick is a native of Louisville, KY. Shortly after earning a bachelors degree, she attended the Jefferson Community College Culinary Arts Program, earning degrees in Culinary Arts, Food and Beverage Management, and Catering.
In 2006 Chef Fitzpatrick earned the opportunity to merge her love of French culture with her love of food. Thanks to a Woman Chef's and Restaurateurs scholarship, she attended L'Ecole de Cuisine La Varenne in France. While in France she studied classical French cooking techniques as well as French food culture and dining.
Following La Varenne, she completed a 3 month stage at Le Chocolaterie de Pont Aven. At the Chocolaterie, Virginette Studied under Chef Eric Jubin, former instructor at the G.J. Bellouet Conseil. It was during this stage, she discovered the exciting and challenging work of pastries and confections.
Upon her return to the states, Chef Fitzpatrick accepted a job at Louisville's Luxury Historic Brown Hotel where she held the position of Pastry Chef. Seeking to advance her pastry career in a more robust culinary environment, she moved to Chicago, IL.
Fitzpatrick was a pastry chef assistant and events committee member for the Chicago Restaurant Pastry Competition from 2011-2012. She also volunteers in the Elawa Farm kitchen assisting head chefs Gale Gand and Michelle Doll in food preparations for the farm market.
Chef Virginette Fitzpatrick is currently Pastry Chef de Partie at Cathedral Hall restaurant at The University Club of Chicago.