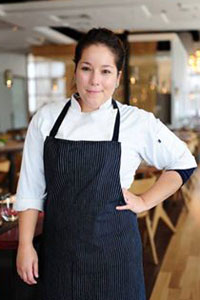 A native Houstonian, Samantha Mendoza enrolled in the Art Institute of Houston the age of 18 with a focus on baking and pastry. While in school, after watching her Instructor Manuel Catemaxca compete in the Chef Olympics in Germany, she was inspired to start competing. A natural in the competition forum, Samantha brought home two silver and two bronze medals at ACF competitions in Houston, Dallas, Las Vegas, and Conroe.
At the age of 19 she started her first pastry cook job at Bedford by Robert Gadsby, who apprenticed with renowned chefs Alain Chapel, Joel Robuchon and Alain Ducasse. Robert and his Sous Chef Matthew Nall mentored and led her encouraged her to continue developing her skills and natural talents for the pastry industry. A year later she started at The Hilton Downtown Houston where she gained knowledge and experience in high volume production. She traveled through Germany, Italy, France, Amsterdam, and Spain to gain an understanding and appreciation of the techniques employed by pastry chefs worldwide.
At the age of 25 she is currently the Executive Pastry Chef at Triniti. With the support of Chef Ryan Hildebrand she attended lectures and hands on classes at The French Pastry School on chocolate application in the pastry world under Chef Thierry Mulhaupt further enhancing her repertoire. Triniti has become a home away from home for Samantha. She plays an integral role in all aspects of the culinary program at Triniti. She has developed seasonal menus working closely with the savory side of the kitchen to produce cohesive, collaborative menus that reflect her talents and growth as a true professional artist. Her contributions to the Mercury dinner, a collaboration of food, wine, and music with Mercury the Orchestra Redefined have exemplified her dedication to craft and execution. Her recent invitations in 2013 to compete in both ICC Star Chef and Pastry Live competitions further demonstrate her growing national attention. She is currently nominated for one of the best pastry chef's in Houston. Under the guidance of Chef Hildebrand, Samantha has laid the groundwork and formed the cornerstones of what is sure to be one of the strongest young pastry programs in the country and now looks to the future as the Executive Pastry Chef for Brande Restaurant Group helming the baking and pastry programs for both Triniti and FM 903 including her own pastry showcasing her creations.