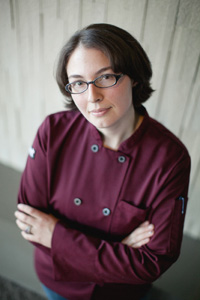 Brown Palace Hotel and Spa
Aya has been interested in cakes and sweets since childhood. It's the classic tale of watching Mom decorate cakes with a star tip and store bought sugar decals. But life happened and instead of following this interest, she pursued the traditional college track and earned a bachelors degree in Anthropology.
Since college, she has worked for two restaurant corporations holding varied positions in purchasing, marketing and quality assurance. It was during these years which she confirmed her desire to work in the food industry, just not in the all-confining cubicle.
With a great deal of help and support, she followed her passion into the kitchen as an entry level pastry cook at the Colorado Convention Center in 2010. This high volume experience lead her to The Sheraton Denver Downtown Hotel. During this time, she was able to hone her skills professionally while completing an associates in Baking and Pastry from Johnson and Wales University and an internship at Frills Cake Shop.
Her ability to excel in a multifaceted hotel pastry kitchen and decorate cakes landed her the Cake Decorator position at the Brown Palace Hotel and Spa in the fall of 2012. As a full time member of The Brown Palace, she is proud to produce wedding and specialty cakes along with Afternoon Tea pastries for Denver's finest guests.